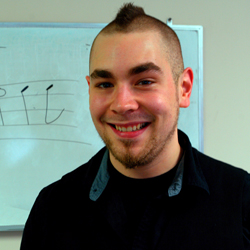 David Joseph Brown, drum teacher at the NJ School of Music, studied at Johnson State College in Johnson, Vermont. He holds a BA in Jazz and Contemporary Performance for drumming. While at TSC he took private lessons with Gabe Jarret, the legendary jazz pianist, Keith Jarrett's son. Dave was the primary drummer in the Jazz, Funk, Fusion, Afro Cuban and percussion ensembles. Upon graduating, Dave moved to South Philadelphia to pursue his dream of being a full-time drummer. He now plays drums for two established metal bands that frequently play venues sue as the Legendary Dobbs on South Street and Mojo 13 in Newark, Delaware.

As a child, Dave became fascinated with percussion by tapping on pots and pans or stacks of books. His father, a music teacher, kept the home lively with all genres of music. When Dave got his first drum set at age seven he had whole-heartedly decided that he would be drumming for the rest of his life. Over the years, Dave attended many conventions and clinics such as IAJE, PASIC, and the world famous drumming camp, KOSA. At KOSA, Dave performed on the same stage as Dom Famularo, Kenny Aronoff and Johnny Rabb.

Dave specializes in rock, metal, funk and Afro Cuban drum styles yet he yearns to inspire musicians of all ages, skill level and musical preference. Above all Dave ensures his students have fun and look forward to learning creative drum techniques.

David teaches: Drums Lessons

Lessons with David are available on Tuesday at the NJ School of Music in Medford and on Wednesday and Thursday at the NJ School of Music in Cherry Hill.