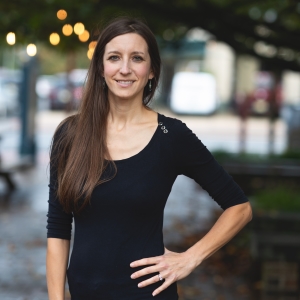 Emily Sutin, Music Therapist at New Jersey School of Music, received her Bachelor of Music Degree in Music Therapy from Temple University's Esther Boyer College of Music and Dance. Emily's main instrument at Temple was clarinet; she is also proficient in piano, guitar, and voice. She is Board-Certified through the Certification Board for Music Therapists (CBMT).

Emily completed her internship working with adults with developmental disabilities at New Lisbon Developmental Center in New Lisbon, New Jersey. Upon conclusion, she became the music therapist at Immaculate Mary Home in Northeast Philadelphia, working with adults with dementia/Alzheimer's disease, those on hospice, and participants in Immaculate Mary's adult day program. She directed a resident choir, as well as facilitated music therapy groups and individual sessions.

Emily currently works with a variety of populations including geriatrics, children with autism, and teens with behavioral difficulties, visiting a variety of facilities such as nursing homes, group homes, and adult day programs. She also maintains per diem status at a South Jersey short-term inpatient psychiatric facility.

Individual sessions are available with Emily for those of all ages. Her approach is to give the client an enjoyable experience in music, and then build on their strengths, interests, and areas to work on in addressing their individualized needs.

Examples of common music therapy interventions are listed below, but are always modified to meet the needs of the client:
-Therapeutic music games addressing impulse control, socialization and cognitive stimulation
-Modified music lessons or learning of musical concepts using non-traditional approaches
-Songwriting of lyrics or instrumental parts
-Lyric analysis
-Music assisted relaxation
-Reminiscence through music
-Singing or instrument playing as a means of aesthetic experience

For more information, visit musictherapy.org

Emily Practices: Music Therapy

Sessions with Emily are available Monday though Thursday at the NJ School of Music in Medford. Home visits may be available upon request.