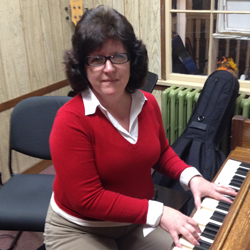 Karen obtained her Music Education Degree from Baptist Bible College. She continued her music training at the Kodaly Center of America in Boston, Massachusetts and Rowan University in Glassboro, New Jersey.

Karen is a state certified music educator and has taught vocal and general music in several private and public schools throughout the area. She has enjoyed directing more than 30 Musical and Dramatic productions.

She also started a Mommy and Me music program called Sing & Sign which has held classes in Cherry Hill and Shamong. She has enjoyed researching the power of music to strengthen a child's mind, not just musically but also verbal skills, patterning skills, logic, mathematical and reading skills, along with analytic and creative skills. She notes that movement activities also develop fine and gross motor skills. This research has enflamed a passion to grow a preschool music program in the area.

Karen has authored a book, "Singing Without Tension", and uses the philosophy taught in that book to teach her students. She believes each lesson should be tailored to the needs and goals of the student and should always include proper breathing, diction and singing techniques.

Her experience on stage and as a director gives her a passion for musical theatre and drama. She enjoys preparing her vocal students for auditions as well as recitals, plays and special singing engagements. Other genres she specializes in are country and many styles of pop music.

Karen has been the recipient of prestigious awards, including the Award for Excellence in the MACSA Choir Competition. She has over 30 years of teaching experience.

She has also taught piano to students ranging in age from four to seventy five. She uses various methods from Alfred to Bastien and chooses the book that best fits the age and experience of the student. Karen believes learning piano can be fun, so she teaches various genres including classical, general and the latest pop or Disney hits. She mixes the students individual preferences in with technique and theory.

As beginner students learn to read music, Karen teaches different strategies from rote to mathematical to analytical, enabling each individual student to utilize their own strengths to develop into an accomplished pianist.

Karen teaches: Voice and Piano

Lessons with Karen are available Tuesday and Wednesday at the NJ School of Music in Medford.